Police seek to identify person of interest in suspicious fires
Nanaimo
2022-04-12 09:08 PDT
File # 2022-11236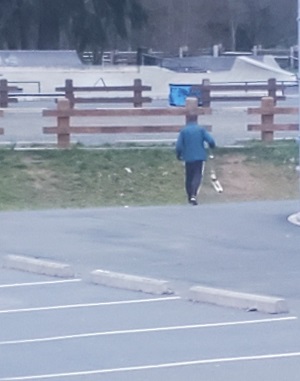 In the past week, 3 suspicious fires have been set in the area of Seventh St and a person of interest identified has been identified in two of the fires. (photo attached).
The first two fires occurred between 7 AM and 10 AM on Sunday April 3, 2022, on the grounds of John Barsby High School. The third fire occurred sometime overnight on Friday April 9, 2022, in the 700 block of Stirling Ave.
Fire # 1 Nanaimo file 2022-1222
Just after 7 am on Sunday April 3rd fire crews and police responded to a garden shed fire. The shed, which was destroyed by the fire, was located on the school grounds of John Barsby Secondary. While police were at the scene, information was obtained that an individual was seen in the vicinity of the fire when it was just beginning to smoulder A description of this person was provided to investigators who was last seen riding a scooter along the foot path that connects to Seventh Street.
Fire # 2 Nanaimo file 2022-1123
Just after 10 AM police and fire crews responded to a fire under a pedestrian bridge that is located on the west side of John Barsby Secondary, and just metres from the garden shed fire. When police arrived, fire crews had extinguished the blaze. Fire investigators determined the fire was suspicious in nature as it appears wood had been bundled under the bridge then set on fire. Fire crews told police that while they were attending to the fire, they saw an individual walking away from the area, and that they were able to take a picture of the person before her left the area. When police looked at the picture, it appeared that this person matched the description of the person seen near the first fire.
Fire # 3 Nanaimo file 2022-11992
Sometime overnight on Friday April 9, 2022 a canvas car seat and candle were taken from the front porch of a home in the 700 block of Stirling Ave, then placed on the back porch of a nearby home. The seat cover was set on fire but melted before the fire could spread. There are no suspects or video evidence of the theft or fire.

While the third fire cannot be connected to the first two fires, investigators recognized that the location of the fire is approximately a six-minute walk from the other locations.

The person of interest is described as a Caucasian man, slim build with long brown hair, and wearing a blue ski jacket, and track pants with a white stripe along the side. Of note, he had a white scooter with him.

All three of these fires are troubling because it appears that they were all intentionally set and occurred within a short distance of each other. Home owners need to be vigilant and report any suspicious fires or persons to the police, said Constable Gary O'Brien of the Nanaimo RCMP.

If anyone has information on any of these fires or the person shown in the attached photo, please call the Nanaimo RCMP non-emergency line at 250-754-2345.


Released by

Cst. Gary O'Brien

Media Relations Officer
Nanaimo RCMP
nanaimo.rcmp-grc.gc.ca
303 Prideaux St, Nanaimo, BC V9R 2N3
Office: 250-755-3257
Cell: 250-713-0701
Fax: 250-755-3238


Email: gary.obrien@rcmp-grc.gc.ca

Follow Us: